Building Quality,

Expertise and Value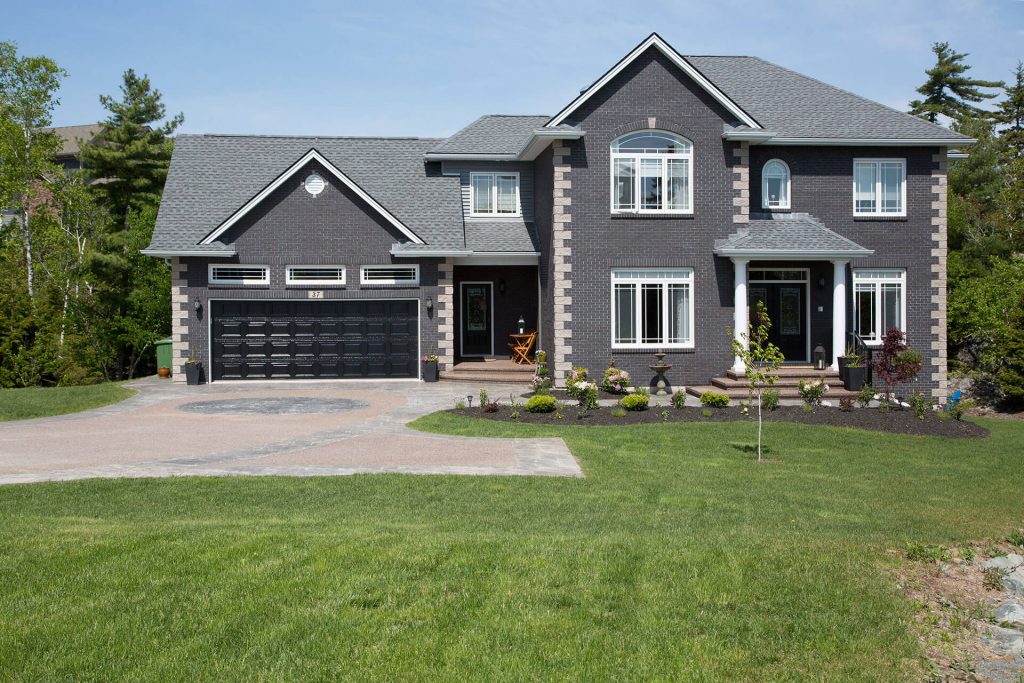 Founded in 1861, Shaw Brick is a leading and trusted Atlantic Canadian manufacturer, distributor and retailer of high-quality clay brick, concrete block and natural stone products for the landscaping and building sectors.
The Shaw Brick Landscape Collection offers a complete line of Pavers, Patio Stones, Wall Stones and Natural Stone products designed to inspire virtually any type of outdoor living space. Our Masonry Collection is a comprehensive line of clay brick, concrete block and natural stone products with many design possibilities for residential and commercial applications alike.
At Shaw Brick, we combine innovative product design with modern manufacturing methods to deliver on both aesthetic appeal and unmatched quality assurance. As Atlantic Canada's only manufacturer of clay building products and its largest manufacturer of concrete products, we proudly give you the opportunity to buy local in support of our regional economy.
Our products are sold by five of our own Shaw Retail Centres and a network of over 300 independent retailers throughout Eastern Canada.

The Shaw Group is one of Eastern Canada's leading natural resource manufacturers and community developers. With a strong focus on products for the construction industry, we compete in a variety of market sectors and produce close to 1,000 individual products in 12 facilities across the Maritimes. Our Group operates on a decentralized basis through a number of divisions and subsidiaries: Shaw Brick, Shaw Precast Solutions, Shaw Resources, Clayton Developments Limited, MMH Prestige Homes Inc., Ven-Rez Products Limited, and Shaw & Shaw Limited. Each Division is a leader in its respective field and our markets have grown to include all of North America along with exports to Japan, China, Sweden, and Germany. Visit the Shaw Group Website
Brick by Brick

Since 1861
The Shaw Group has grown brick by brick from its modest beginnings in 1861 as a small Hantsport, Nova Scotia clay brick and tile manufacturer. Known then as Robert Shaw's Brick Works, this firm constructed a solid foundation from which to expand and grow by taking the brick – a building product as old as time – and developing new applications and additional users.
The last 150+ years have seen many changes. Noting the potential in related markets, the company, then known as L.E. Shaw Limited, seized opportunities to expand its ability to provide high-quality products and services. Brick and concrete materials production was augmented by resource materials, real estate development, and transportation. To reflect growing diversity, L.E. Shaw Limited became The Shaw Group Limited in 1993. The company continues to demonstrate success through change, and also developing and refining an extensive stable of products and services based on today's needs.
Robert Shaw

Robert Shaw established the first brick plant in Hantsport, Nova Scotia, called Robert Shaw Brickworks.

Hansport to Avonport

Robert Shaw decided to move the brick production from Hansport to Avonport for a better supply of clay.

Windsor Fire

The town of Windsor was completely destroyed by fire on October 17th and needed to be rebuilt, requiring hundreds of thousands of bricks. Robert Shaw made a bold move and bought a train carload of modern machinery, thus securing the business to rebuild the town.

Abundant clay

Abundant clay was found in Middleton and a brick plant was established by Robert Shaw's son L.E. Shaw. The company was then known as the Middleton Brick & Tile Company.

Pugwash Brick Plant

After buying plants in Brickton, Bridgetown, and Avonport, L.E. Shaw and partners invested in a large Pugwash Brick plant. This enterprise eventually became NS Clay Works.

Shubenacadie and Lantz

NS Clay Works bought out two brick plants in Shubenacadie and Lantz. Throughout the company's history, Lantz becomes know as the hub of the company.

World War 1

In August of 1914, World War I was declared and the brick plant was ordered closed.

Shaw Sold

L.E. Shaw sold his shares in NS Brick and Tile and moved to Wolfville to open a new brick plant with his father Robert Shaw.

Halifax Explosion

On December 6th, 1917, the city of Halifax was devastated by an explosion. The SS Mont-Blanc, fully loaded with wartime explosives, accidentally collided with the Norwegian SS Imo in the Halifax Harbour. The city was flattened. Two thousand people died and thousands more were injured. The city would have to be rebuilt and the company received its largest single brick order to date.

New Investment

With new investment partner Horton Phinney, L.E. Shaw Limited was incorporated. The cash injection allowed the company to build six new kilns, ten tunnel dryers, steel cars, and pallets. The new equipment meant the company could start to make a good profit.

Great Depression

Only two years after the Chipman plant was opened, the Great Depression hit the world. The brick market took a dive and L.E. and son R.H. are forced to close down the plant.

Buy Out

In the midst of low sales at NS Clay Works, due to the Depression, L.E. Shaw Limited took the opportunity to buy out the competition. The Clay Works plant in Pugwash was shut down shortly thereafter.

Fredericton Plant

The Fredericton plant, which had been making brick for over 80 years, was converted to the manufacture of concrete block. A machine room and five curing chambers were added to the existing building and surplus block-making machinery from other company plants was installed.

Milford Station

Nova Scotia Sand and Gravel was established in 1954 for the primary purpose of supplying concrete aggregates for the construction of National Gypsum's plant at Milford Station.

100 Anniversary

The 100th anniversary dinner in December 1961 was cancelled due to the death of Allen Cole. However, a lot had already been done to celebrate the anniversary.

Acquiring Transportation Fleet

In April 1969, L.E. Shaw Limited grew again, this time acquiring its own transportation fleet. They purchased Leo Isenor Trucking Company with 24 trucks including three tractor-trailers; four dump trucks; sixteen 12-ton "trailing axle" trucks; and a variety of dozers, logging equipment, and assorted utility equipment

New Masonry Centre Dartmouth

In September 1976, the division opened a new Masonry Centre in Dartmouth on Ralston Avenue. It was designed to serve as a retail centre and delivery point for all metro orders of fewer than 4,000 brick.

Chipman Plant Closed

The Chipman brick plant closed permanently on February 16, 1990. The loss of a major brick sales contract, an outdated plant, low housing starts, and shrinking markets compounded by cheaper products from outside the province were at the root of the Chipman closure.

Going Retail

Going Retail...In 1992, the Masonry Centres formally "went retail" and started to incorporate promotion, in-store features, truckload sales, etc., all designed to make them more appealing to the do-it-yourselfer, as well as the contractor.

Shaw Group

The corporate name of the company was changed from L.E. Shaw Ltd. to The Shaw Group Ltd. to better reflect the diverse group of companies included in its portfolio.

Seismic Stabilization

Shaw Brick developed and manufactured a special customized clay brick for use with a new seismic stabilization system in Hokkaido, Japan. Just days after the first brick building opened, the city sustained an 8.2 magnitude earthquake. Not one of the 50,000 bricks in the new building moved.

GS Concrete Aquired

On June 23, 2004, The Shaw Group acquired GS Concrete, a competitor in the regional concrete marketplace with a good reputation.

New Equipment

Realizing that in order to stay in the landscape paver business, the old technology would need to be replaced, the Shaw Brick division decided to make a significant investment in this area by purchasing new equipment. This state of the art equipment is currently the most advanced technology in North America. GS Concrete was closed allowing Shaw Brick to consolidate all operations at the Lantz facility.

150 Anniversary

Shaw celebrates 150 Years.
+
-